Polynesian Voyaging and the Wayfinding Art Curriculum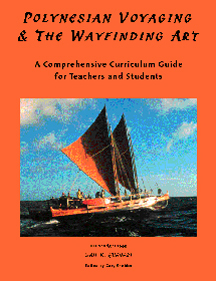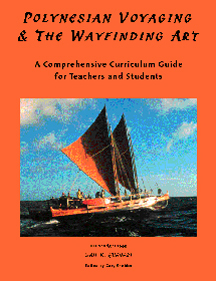 Polynesian Voyaging and the Wayfinding Art Curriculum
Some students are attracted by a challenging puzzle. Others are captivated by a exciting adventure. Polynesian Voyaging & The Wayfinding Art offers both.
The puzzle: Where did the Polynesians come from? This controversial issue has engaged explorers, scientists and historians for hundreds of years. This books presents early theories and information, as well as modern archaeological and linguistic evidence; challenging students to discover the most likely answer to the question of Polynesian origin.
Lesson plans and learning objectives are outlined at the beginning of each section. The entire curriculum encourages a team approach to learning. The interdisciplinary activities are designed to supplement standard programs in History, Geography, Social Studies and Science classes at the Junior High or High School level.